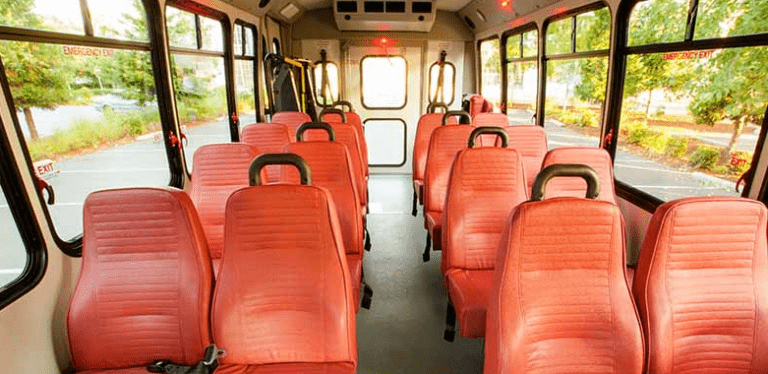 CHOOSE SHANGHAI PORTLAND BUS RENTALS FOR EXCEPTIONAL COMPANY EVENTS
Set your company apart with bus rentals from Shanghai Portland for your next event. Whether you are looking to impress and entertain your conference attendees or want to show your employees you appreciate them, our party buses are the perfect candidate for the job. With coolers for snacks and drinks, premium sound systems with microphones, and friendly drivers who know how to break the ice with any group, you are sure to have some quality team fun.
No matter who you are trying to wow – clients, colleagues, business partners, or employees – our party buses and tours are a one-of-a-kind experience that will leave a lasting impression. Let Shanghai Portland help you disrupt the stereotype of ho-hum, forced fun company events. We can usher your guests through your itinerary with panache and offer our suggestions for team-building destinations if needed. Whatever your objectives, you're already thinking outside the box the moment you step into a
Shanghai Portland bus.
Networks Build Themselves with Shanghai Portland Bus Rentals
Whatever your industry, conferences are an excellent opportunity to build networks and foster relationships. If you are planning a conference, let Shanghai Portland take the wheel when it comes to bus rentals for networking events or post-workshop activities.
Once you've shut off the projectors and closed the conference room doors, we can help you facilitate business connections by providing a party bus experience that takes networking beyond the hotel lounge. Take conference attendees on a brewery tour, a trip to Punchbowl Social, or karaoke around town. By the end of your time with Shanghai Portland, the folks at your conference won't need those nametags anymore.
How to Build Teams in Buses
Team building is an art and Shanghai Portland's party buses are here to be your canvas. We've all experienced icebreakers that don't quite break the ice and team fun that felt a little too forced. But you can avoid the pitfalls of group activities for adults with Shanghai Portland. Our friendly drivers know how to accommodate any guest and facilitate a group toward authentic fun. Our sound systems are set up for both playing your favorite songs and also passing the microphone for introductions. And if your ride ends up in an epic karaoke session, consider your team built.
Let Shanghai Portland Upgrade Your Company Retreat
Attracting and keeping great talent is all about healthy and fun company culture. So we ask you, what's better for company culture than office ping pong tables or the annual all-staff potluck picnic? A Shanghai Portland party bus retreat! Finding the right group activities for adults is not always an easy task, but we've helped many folks to create excellent company events. Along the way, we've found more than a few great retreat activities. Here's a sample of some quality team-building destinations we like for a company retreat tour bus rental: